ATV History
Standby to be confused, as sub-TV explains ATV's journey from pre-birth to reincarnation!
A tip - any company prefixed by Associated-British has nothing to do with Lew Grade and the future ATV...
The Two ABCs
Back when the BBC had a television monopoly, a consortium called the Associated Broadcasting Development Company (ABDC) was formed that helped to get the Independent Television Authority Act through Parliament.
It was not formed for any other purpose and was not trading in any other area.
The ITA Act was passed in 1954, and Lew Grade's consortium, ITC (Independent Television Company), applied for an ITA contract. ITC failed in its bid as it was considered to have too much control over talent.
On the other hand, the ABDC had trouble forming a production arm and securing finances.
The ABDC joined with the ITC, was awarded the weekend contract in London, and dropped the word 'Development' from its name to become the Associated Broadcasting Company (ABC).
A completely separate body, the Associated-British Picture Corporation, was awarded the contract for North and Midland weekends under the subsidiary name Associated-British Cinemas Television.
The Associated-British Picture Corporation never wanted to be involved in independent television, and only signed a contract after being persuaded to do so by the ITA.
Now here comes the rub - because the Associated-British Picture Corporation never intended to be involved in independent television, Lew Grade was justified in using the name ABC for his Associated Broadcasting Company.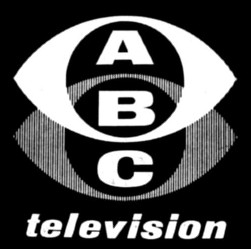 Lew Grade's ABC logo
Associated-British Cinemas Television signed up with the ITA at the same time that Lew Grade's ABC went on air. Associated-British Cinemas Television were to provide weekend services in the Midlands and the North, due to begin broadcasting about six months after Lew Grade's ABC started broadcasting in London.
As the name Associated-British Cinemas Television was considered confusing, it was shortened to Associated-British Corporation to bring it in line with the ABC brand of cinemas owned at the time by the Associated-British Picture Corporation.
So now we have Lew Grade's company, Associated Broadcasting Company, that wanted to use the initials ABC and the Associated-British Corporation who wanted to use the initials ABC.
A court case settled the matter against Lew Grade and the Associated Broadcasting Company. Of course, the Associated Broadcasting Company had been broadcasting for a few weeks as ABC, and now it had to change its name... to Associated TeleVision Ltd.
Hereafter this page refers to Lew Grade's ITA company as ATV and Associated-British Corporation as ABC so that things don't get over-complicated - bear in mind though that Lew Grade's company wasn't always called ATV!
A Brief History of ATV Without the Confusing Bits
ATV opened in London in earnest from 24th September 1955, a Saturday, following two days' of programmes from Associated-Rediffusion (which opened on Thursday 22nd September 1955). ATV and A-R jointly presented ITV's opening night.
ATV's Midlands service was broadcast from Friday, 17th February 1956, which is a bit odd as ABC then took over for the weekend. In its first week, then, ATV's Midlands service broadcasted for one day!
ATV (both London and Midlands) had their contract renewed in the 8th January 1964 franchise awards.
In 1967, the Independent Television Authority (ITA) awarded ATV Network Ltd. (ATV Midlands) the contract for the Midlands area, and from Tuesday 30th July 1968 ATV ceased broadcasting in London (the London contracts went to Thames and London Weekend) and broadcasted in the Midlands on a 7-days-a-week contract.
On Sunday (as this would reduce the panic selling/buying of shareholders) 28th December 1980 the IBA announced, after inviting applications for franchises in early 1980, that ATV would retain their franchise on the conditions that they would reflect the Midlands more in their programming (including making the Midlands a dual region, East and West), have shareholders with Midlands interests, and change their name to a more regional one.
Officially ATV ceased broadcasting, and Central began to broadcast, at 0000 on Friday 1st January 1982, although ATV closed down the evening's programmes on New Year's Eve / New Year's Day early morning.
---
Back to sub-TV home